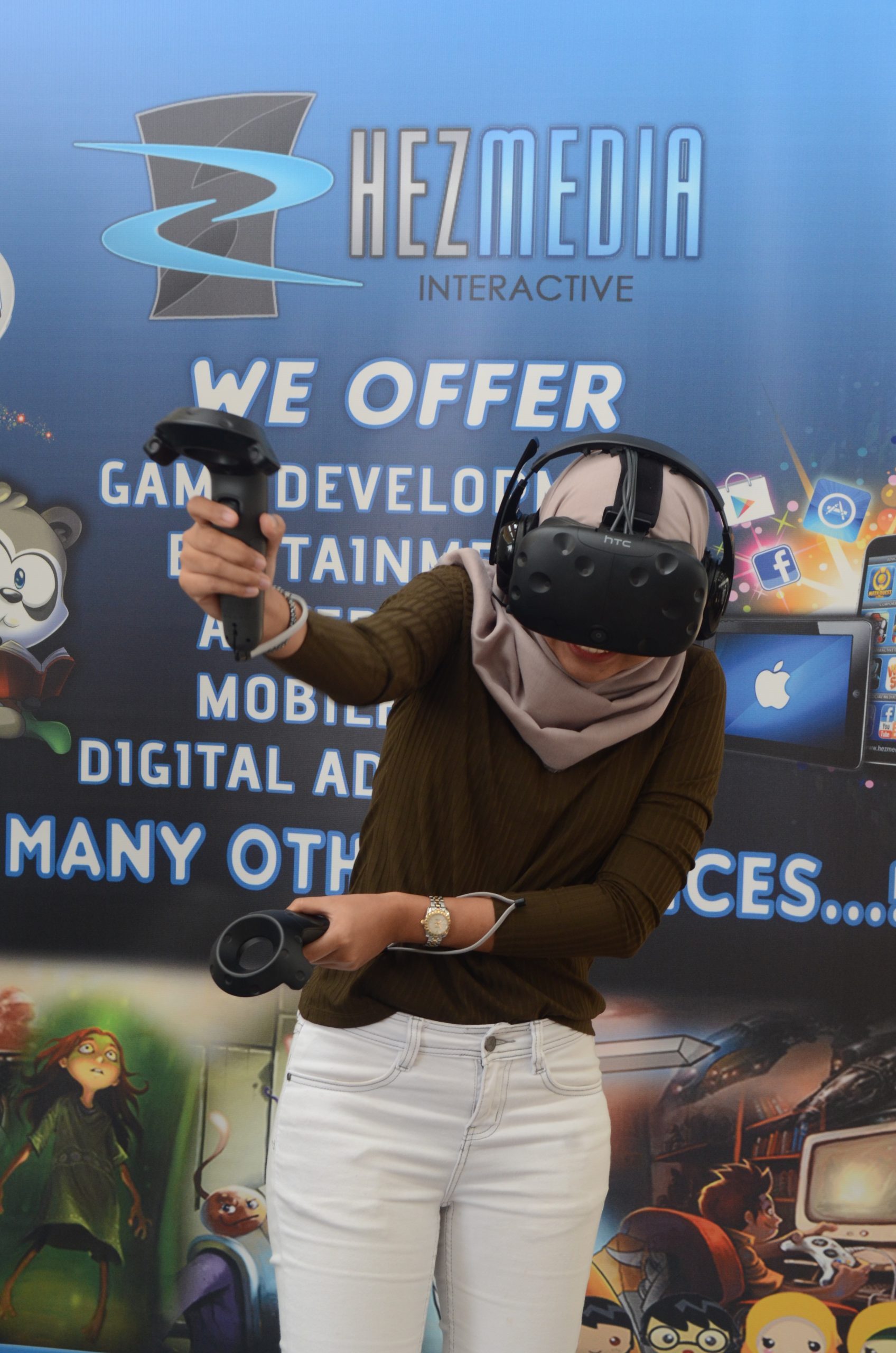 Digital News Asia Q&A
a) At Level Up you were showing off a zombie shooter. Does this mean that Hezmedia is focused on core games instead of casual games.
Hezmedia Interactive Sdn Bhd is a creative multimedia and game development studio established in 2009. We have been creating compelling IPs, mobile games and apps for various clients especially on Android, iOS and Web-based platform. During the Level Up event, we are actually showcasing our first VR game called D.U.K.E : Dimension Ultimate Keeper. It is a 3D First Person Shooter game that uses latest Virtual Reality gadgets like HTC Vive.
With the rise of Virtual Reality technology over the past few years, we started to take interest in the technology and have develop core games to understand how the VR technology works. Now, we have the capabilities to develop contents and solutions in VR and we believe the skills and experiences that we have gain not only applicable to develop gaming contents but also for other beneficial for other areas as well such as training and simulation for various industries.
While we are still focusing on casual games, having VR content development as part of our service offerings will definitely strengthen our company's position as the leading game developer that specializes in edutainment and gamification solution in the region.
b) Was it difficult getting started in VR development? What were the initial obstacles?
For a startup game development company, it can be challenging to embark on VR development especially if you have a limited resource on budget & manpower. As the VR technology getting more advance day after day, a lot of new technology, tools, devices and practices were introduced at a fast rate. Every couple of months, a new technologies or devices were launched by the major players in VR industry and almost on a daily basis, a new interesting VR solution being introduced by fellow VR practitioner to the world.
In order to always be relevant in the industry, it can be a full-time effort to catch up with the latest development, news, and trends. VR technology comes in various type and forms, some are wireless and some are tethered. You might need to have enough capital to purchase and try out several VR equipment and devices, which can cost a few thousand dollars especially on the high-end products like Oculus Rift and HTC Vive.
In term of content development, it shouldn't be a major issue if you are familiarized with game development software like Unity and Unreal. However, from game design perspective, the developer must realize the differences of UI & UX (User Interface & user Experiences) when developing VR content as compared to developing normal games. In our case, we are fortunate to be funded by MDEC to embark on our Research & Development on VR technologies, which helps a lot to overcome the initial obstacles faced by many newcomer in the industry.
c) At Level Up, we heard speakers like Alexander Fernandez talk about finding trained personnel with experience. Has this been a problem for you as well?
In our case, we have no problem finding and recruiting a team to work on our VR project. In term of art aspects, there are many quality 3D designers and modeler to develop assets for our game, either freshly graduated or experienced one. However, for the programming sides, studios may find it a bit hard to recruit a good talent, and I believe it happen not just in VR project development but also in game development industry as a whole. To overcome this, we hire programmers with strong Unity background and allow them to explore and learn how to develop VR games and contents along the way. I would say, 70% of the knowledge in developing standard game is still applicable when starting a VR development project, and the rest 30% is to understand and implement different SDKs and APIs that comes with the technology used, and as for designers, they might need to iterate UI/UX design to achieve better experiences in VR.
d) What websites/locations do you use to recruit people?
For Hezmedia, we take a long time to recruit people to be part of our development team. Most of our current staffs are graduated from local Universities and possess relevant game development background. They know about job vacancy from our website and applied through emails. Most of them also have gone through internship process prior to getting hired.
I understand that to hire a local trained VR developer might a bit difficult especially if the developer is a newcomer or they doesn't have the time to groom and train the talent like what we do. Nevertheless, talents can also be sourced from websites like Upwork and Freelancer.com where you might consider people from different parts of the world work together online to work on your VR project.
e) Are you using Unity 3D for all your projects? Have you tried other game engines?
Yes, we are using Unity for most of our projects including our first VR game, called D.U.K.E : Dimension Ultimate keeper. There are other game engines available to develop VR contents, such as Unreal Engine. Both have their own strength and weaknesses. For example, Unreal may have better graphics processing capabilities but due to its steeper learning curve, finding talents might be a bit hard. As for Unity, it is a far more approachable game development tool and due to that, their user base is huge and finding talent is much easier.
We also utilize Unity's huge Asset Store to acquire quality art assets like particle effects, sounds and game engines for our projects. Since it is much more effective in term of cost and time to work with Unity Engine, we decided to develop our project in Unity and have yet to try other game engine.
f) Do you have plans to get into PC or console development or is your focus exclusively on VR?
At the moment, we are focusing on developing more contents for VR especially for our own VR Arcade platform called ArenaVR. Along with our partner company, Flyx Technologies Sdn Bhd, we have created an advanced Virtual Reality platform in a form of an Arcade booth. The system doesn't require any controller and very simple to use. Player will need to enter the booth and wear VR head mounted display device to start their VR experience. They can roam or navigate in the vast Virtual Reality world just by using their body and hand gestures only. It is capable of solving the locomotion problem with recent VR development.
ArenaVR booth can offer wide variety of games as well such as Multiplayer First Person Shooter, Escape Room, casual arcade games and many more, at a very reasonable price, charged per minutes they have played. Player can also save their progress within their individual account and it will be stored in the cloud. The next time they come to play, they can load their progress and continue from where they stop previously. This new model and new system will revolutionize Arcade centers and develop a community of VR early adopters, gamers and enthusiasts under one roof.
g) What are your thoughts on augmented reality devices like Microsoft's HoloLens?
Microsoft's HoloLens can be one of the most advanced Mixed Reality devices that can drive the mass adoption of similar technology faster on a global scale. The technology is very useful and can be applied on a day to day activities in the near future just like how people use laptops nowadays. Currently, due to its price which is pretty high, and also the field of view limitation which is quite small, we might see the adoption are a bit restrained and probably being driven by industry players with serious needs for the technology. However, as the technology advances and the cost lowered, I would imagine that individual people would buy it for personal use, to a point it will be as revolutionary and disruptive as how smartphones changes the world. As for us, We already have plans to develop solutions using Microsoft HoloLens and looking for partners to embrace the technology together.
h) What are your plans for the next two years?
Along with our partner, Flyx Technologies Sdn Bhd, we are now at the stage of talking to potential partners and distributor, and gathering valuable input and feedbacks on how to commercialize our ArenaVR Arcade platform to Theme Parks, Amusement/Arcade Centres and Arcade Distributors in Asian region. We are also looking for potential investors for our Seed Stage Funding and several other key partners to scale up the commercialization activities once our product were accepted by Arcade operators. Hezmedia Interactive will be handling the software and content aspects, and we plan to develop up to 5 more VR games with different genre over the next 2 years. By the year 2018, we might reach to a stage whereby we are ready to expand to other region beyond South East Asia, and we will be looking for next stage of funding which is Series A round.